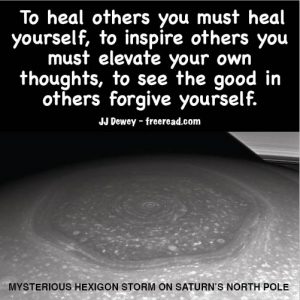 Day 304
Creating Reality
The Seed Thought:
Give love and acceptance to all and you will have all the love and acceptance that you can handle.
How many times have you heard people complain about how badly others treat them? They are not loving enough, generous enough, kind enough and, instead, treat them badly. To listen to them it would seem that they were cursed with the exceptional bad luck to be surrounded by people of a terrible temperament.
The seeker must realize that there is a lot of truth in the statement, "We create our own reality." If most of the people around us seem negative then we need to examine the thoughts that we ourselves are producing to create that reality.
This reminds me of a story.
A guy moves into a new neighborhood and has his first encounter with the guy next door and asks, "What are the people like in this neighborhood?"
The guy responds, "What were they like in your last neighborhood?"
"They were a bunch of S.O.B.'s, backbiters, irresponsible, and just out for their own selfish purposes."
To this the neighbor responded, "Well, that's pretty much the way that you will find them here."
The guy was wise enough to know that reality is largely created by our own thoughts and perception.
Understanding this principle is very useful in the selection of friends and romantic relationships. If a person complains about a string of terrible relationships in the past then it is best to avoid that person or you will shortly join the list. If the person complains about all the friends that betrayed him then you'd better distance yourself or you will join that list also.
A complimentary principle here is that like attracts like. Positive people are attracted to others who are positive and the negative to negative. The positive ones create their own heaven on earth and the negative ones their own hell.
If the seeker sends out love and acceptance to the maximum degree possible he will draw others who recognize and appreciate such vibes and people will come into his life who reciprocate that which was given out.
Seed Thought of the Day:
You can dispel hate with love, but you cannot eliminate love through hate.
Day 305
Love and Hate
The Seed Thought:
You can dispel hate with love, but you cannot eliminate love through hate.
This roughly corresponds to the thought that light can instantly dispel darkness but no amount of darkness can extinguish the tiniest light.
I say the correspondence is approximate because few correspondences are exact yet they are close enough to reveal the principle involved.
Light immediately dispels darkness, but a show of love does not always cause an immediate effect. What does correspond exactly is when love is received. When love is given and then received all hate involved is instantly evaporated just as a light instantly causes darkness to no longer exist.
On the other hand, when one truly accepts love into his consciousness there is no amount of hate that can take it away for love and light are closely related. It is of great importance then that the seeker keeps his focus of attention on both light and love. When the focus is maintained then no amount of darkness, negative feelings or hate can extinguish them.
Once a truth is registered in consciousness no amount of darkness can cause the seeker to snuff it out. Similarly, once the fires of love are registered in the heart the seeker will always choose that feeling over hate.
Jesus was a great example of this principle. In the midst of the agony of crucifixion by his enemies, who hated him, he demonstrated the dominance of love over hate by saying:
"Father forgive them, for they know not what they do."
Likewise the love of the true disciple cannot be diminished by those who hate him. He will instead look upon them as if they are little children who know not what they do. He will have faith that the day will come that the love of God will manifest in their hearts and from that point on be the dominate force.
Those who are polarized in hate have never fully registered spiritual love. What they see as love is merely selfish desire. Spiritual love is completely unselfish accompanied by a desire for equal sharing.
Seed Thought of the Day
Those who focus on an end of the world apocalypse often create an underlying energy that leads to the end of their personal world in disaster.
Day 306
The End of the World
The Seed Thought:
Those who focus on an end of the world apocalypse often create an underlying energy that leads to the end of their personal world in disaster.
This is a good time to review lesson 88 dealing with the principle of energy following thought. Because we are all a part of God we all have within us godlike powers. We thus have within us power to manifest our thoughts for thoughts are indeed things and create things. The only reason this creative power is not more apparent is that most have within them many thoughts in opposition to each other. You may have a goal you want to achieve but other thoughts take you on the easy and perhaps more enjoyable road in the opposite direction. You may want to make a great accomplishment, but opposing thoughts do not believe it is possible.
Remove the opposing thoughts and all things become possible.
Easier said than done.
Today as in ages past there is a large percentage of the world who believe we are in the end of days, that we are approaching an apocalypse that will manifest great tribulation in the near future. Fortunately, not everyone has this belief, as there are also many with the opposing belief that mankind has a promising future ahead of them.
These two opposing beliefs interplay and from them is produced a world of uncertainties where a apocalypse seems possible, but so does a better world. How this plays out is largely determined by whether positive or negative thinking dominates.
Meanwhile, even if we have no outside apocalypse the power of focusing, and sometimes even hoping for one, has a powerful effect and such thinking is often powerful enough to cause great tribulation within one's own world.
A great example of this was David Koresh and the Branch Davidians. They believed the apocalypse was very near and the days of fire and tribulation were at their doors.
It turned out that they were correct, but the fire and tribulation only applied to them and not the world itself. After a confrontation with the authorities their whole compound went up in flames burning many of them alive and destroying their movement.
Their thoughts were directed toward the end of the world and the end of their world came to pass.
Many end of the world thinkers do not suffer such a dramatic ending, but still suffer their own personal apocalyptic scenario. Some suffer financial disaster, devastating breakups of relationships or painful end-of-their world health problems.
The old adage of being careful of what we think applies here. The seeker must focus his mind on seeing both the outer and inner world in as positive and peaceful terms possible. This will aid in making his personal world more of a heaven on earth rather than a hell.
Seed Thought of the Day:
No great truth will come without effort. We must seek it in our quiet moments. As we become sensitive to the inner voice we will all discover truth in some odd places.
Day 307
Holding the Light
The Seed Thought:
No great truth will come without effort. We must seek it in our quiet moments. As we become sensitive to the inner voice we will all discover truth in some odd places.
I have discovered what I consider to be many significant truths in my life that are outside of mainstream thinking. When I have taught them to others I notice an interesting response. Part of the receivers merely registered the information as data with no understanding of the underlying principles. When discussing it later with them it is as if they had never heard of the teaching before, though they may recall a few words that were said.
Then there are others who heard the same teaching, but seemed to have a light turned on inside of them. These seem to grasp more than a few words but assimilated the ideas or principles therein.
What is the difference between the two groups?
The difference is the second group made an effort to understand, whereas, the first just basked in the teaching as one would enjoy a movie for entertainment purposes only.
The seeker must understand that greater understanding does not come by osmosis. When a greater light is available the student must see it as a trigger rather than something just passing by. If he sees it as a trigger then it will act like an alarm clock reminding him to wake up and pay attention. When he pays attention he then applies the principle of holding the mind steady in the light. When the mind is then steady in the light it is as if the light is no longer just passing by, but now held firm as the sun shining in its strength at noonday.
When this occurs the student claims the understanding as his own and it will always be with him.
The student must have his internal antenna up at all times to detect signals of truth. If he keeps up this awareness at all times he will find truth in unexpected places. It could be something like an interview in the media, a comic book, a movie or even a casual statement from a friend. Flashes of greater light comes from other sources than the scriptures or great literature.
Jesus said: "Watch therefore: for ye know not what hour your Lord doth come." Matt 24:42
This is equally true if worded as follows:
"Watch therefore: for ye know not what hour greater light will come."
Seed Thought of the Day:
Perfection is in the eye of the beholder. Even Jesus was rejected because he was seen as a flawed character.
Day 308
Perfection
The Seed Thought:
Perfection is in the eye of the beholder. Even Jesus was rejected because he was seen as a flawed character.
All religions teach about the perfection of God and Christians are big on the perfection of Jesus. This doctrine uses the Bible to justify this, but what is not realized is that theologians rely on a mistranslation. The Greek word for "perfect" in relation to Deity is TELEIOO and the corresponding TELEIOS. This word does not really mean perfection as we think of it today but more literally means to finish, accomplish, or complete.
Here is the main scripture that refers to the perfection of Jesus:
"Though he were a Son, yet learned he obedience by the things which he suffered; And being made perfect, he became the author of eternal salvation unto all them that obey him." (Hebrews 5:8-9)
"being made perfect" all comes from the one word TELEIOO. This does not mean perfection as we define the word but it implies that Jesus finished his learning so he could do his job.
The Greek word AKRIBELA corresponds to the English perfection implying exactly correct performance. This word was not applied to Jesus but to the attitude of the authorities who crucified him.
Perfection is indeed in the mind of the beholder. What one considers as the perfect response to a problem will be seen as flawed to another.
Many see God as the perfect creator yet take a look at his creations, All humans are different and all have some flaws. It is close to impossible to find a perfect natural diamond or crystal, but easy to find those with flaws.
And take a look at the planets in our solar system. Only earth has perfect enough conditions to support human life.
Even when we look at the creations of God we must admit that perfection among them is difficult to find and then what one sees as perfect another will find flaws.
Instead of seeking a flawless perfection the seeker should seek the perfection of TELEIOO as did Jesus. In other words, the pilgrim will seek to do a work in harmony with the will of God and continue until it is finished, or TELEIOO.
This is doable whereas an exacting perfection in this material world is not.
Seed Thought of the Day
The inner voice must be awakened by focused attention.
Day 309
Focused Attention
The Seed Thought:
The inner voice must be awakened by focused attention.
Focused attention is a key to success in almost any arena of life where achievement is involved, yet it is perhaps the most ignored.
And why is this?
Because focusing one's attention takes effort and it is the line of least resistance to take the easy way which is to attempt to reach the goal with little or no effort.
The main lesson learned by the life of God as it passed through the animal kingdom was the paying of attention. A wild animal has to learn to pay attention or it will starve or get eaten or killed by a predator. Deep within each human are all the knowledge and lessons of the lower kingdoms which are: the knowledge of the mineral, the feeling of the vegetable and the focused attention of the animal.
All these qualities can be retrieved by human consciousness, but not by osmosis. The individual has to pay attention to the Spirit within if he wants to correctly manifest and use them.
Here is why paying attention to the inner Spirit is difficult for the beginning seeker. From the time of his beginning as a human life all he has felt from within are the feelings generated by his personality self. For a long period of time he is not even aware that there is something else to perceive.
Eventually, he hears others speak of the inner voice or Spirit or has an experience where the Still Small Voice seems to speak. Finally, he realizes that if he pays attention that there is something more within than his own personality feelings and thoughts.
At first the seeker just "waits upon the Lord." Then after waiting and waiting he either gets discouraged and ceases his quest or realizes he must do more than wait. Instead, he learns that he must be actively involved in directing consciousness toward the union with Spirit and the Higher Self.
Just as a person building a model ship within a bottle must pay a lot of focused attention to the project, even so must the seeker who seeks consistent communion from within must do likewise.
Seed Thought of the Day
Only by descending into the darkest depths can the fullness of love and light become known.
Day 310
Earth School
The Seed Thought:
Only by descending into the darkest depths can the fullness of love and light become known.
We often complain about problems we have as humans. Many either blame God or refuse to believe saying, "If there was a God then why would He allow pain and suffering?"
The seeker needs to realize that this earth plane is a school and without problems to solve the student learns very little.
One of the most important lessons to be learned is love and the principle is illustrated in this story:
"And, behold, a woman in the city, which was a sinner, when she knew that Jesus sat at meat in the Pharisee's house, brought an alabaster box of ointment, And stood at his feet behind him weeping, and began to wash his feet with tears, and did wipe them with the hairs of her head, and kissed his feet, and anointed them with the ointment.
"Now when the Pharisee which had bidden him saw it, he spake within himself, saying, This man, if he were a prophet, would have known who and what manner of woman this is that toucheth him: for she is a sinner.
"And Jesus answering said unto him, Simon, I have somewhat to say unto thee. And he saith, Master, say on. There was a certain creditor which had two debtors: the one owed five hundred pence, and the other fifty. And when they had nothing to pay, he frankly forgave them both. Tell me therefore, which of them will love him most?
"Simon answered and said, I suppose that he, to whom he forgave most. And he said unto him, Thou hast rightly judged. And he turned to the woman, and said unto Simon, Seest thou this woman? I entered into thine house, thou gavest me no water for my feet: but she hath washed my feet with tears, and wiped them with the hairs of her head. Thou gavest me no kiss: but this woman since the time I came in hath not ceased to kiss my feet. My head with oil thou didst not anoint: but this woman hath anointed my feet with ointment.
"Wherefore I say unto thee, Her sins, which are many, are forgiven; for she loved much: but to whom little is forgiven, the same loveth little." Luke 7:37-47
This does not mean that we have to become great sinners to learn about love, but it does illustrate the fact that great difficulties provides opportunities for it to manifest.
The woman had a great weight on her shoulders which was relieved by Jesus, causing her to feel a surge of love. When a person encounters difficulties of any kind and receives help from another that brings relief, then love will be manifest.
Great love is often manifest when a group of people undergo a harrowing experience together. For instance, those in the military who go through great battles where they have to depend on each other to survive establish a brotherhood and closeness that few realize. Comrades in sports also establish a strong link.
Such a brotherly love cannot manifest between two who do not go through points of tension together.
Any shared experience involving problem solving bring two or more people closer together and helps love to be known.
The seeker will not realize the power of love through mere osmosis, but must descend to the depths and get his hands dirty if necessary. Peace and love exist most profoundly together when they follow a resolved conflict or problem.
Seed Thought of the Day:
It is difficult for us to clarify with our consciousness that which lies outside our consciousness.
Day 311
Expanding Consciousness
The Seed Thought:
It is difficult for us to clarify with our consciousness that which lies outside our consciousness.
One of the problems with a lot of gurus and self proclaimed prophets is that they elaborate on many things outside of their consciousness while expecting students to accept merely because they say that what they teach is true.
One of the things that is beyond the consciousness of all these characters are the details of future happenings. One can examine future trends and cycles compared with the past and give some accurate indications, but no one has proven they can accurately predict the details of the future.
This gives the seeker a reliable key to weed out the self-deceived teachers. All one must do is examine their writings and see if they have made any serious predictions that did not come true. Amazingly, most of them do make specific predictions and all who have that I have examined have failed prophesies. Generally, close to 100% fail.
So, if a person claims to be of such high consciousness that he can predict the future, and then fails, one must ask – what else has he taught that is not true? What other levels of consciousness that he thinks he is accessing that is illusion on his part?
As sincere seekers, however, we do want to expand our consciousness and stretch ourselves to reach our next level. This is a right direction to take, but problems develop along the way. When the individual touches upon his next level he finds himself on unfamiliar territory and at first has difficulty in articulating what he has perceived. Sometimes he will merely say that it is impossible to put into words.
The truth is that anything can be put into words for the Word is God and with God all things are possible. The difficulty in putting a new experience into words is that the seeker merely has not yet completely processed it and does not comprehend it in his physical brain consciousness.
Therefore, you will sometimes encounter those relating true experiences but giving a description that is not accurate. This is again an important reason that the seeker develop his own soul contact so he can discern for himself the real from the unreal.
Seed Thought of the Day:
The inner spirit only recognizes that which is true and does not see error. Therefore the soul vibrates positive for us when truth is spoken or presented.
Day 312
Perceiving Truth
The Seed Thought:
The inner spirit only recognizes that which is true and does not see error. Therefore the soul vibrates positive for us when truth is spoken or presented.
The Higher Self lives in a realm where only truth exists which is quite different from the earth plane where unlimited illusions exist.
Here, there are a number of problems with our communications. Some of them are:
(1) Outright lies.
(2) Distortions and exaggerations.
(3) Incomplete communications giving the wrong idea.
(4) Honest communications, which are misunderstood and interpreted incorrectly.
(5) Bias on the part of the receiver causing him not to register what has been said.
In the realm of Spirit these limitations are virtually non-existent for deceptive communication is impossible. Think… if you could read someone's mind then they could never lie to you.
This earth plane is foreign territory to the soul. When it begins to merge with the lower self and peers out into our world it is like entering a foreign country with different customs and language. It recognizes truth but error and deception are not in its consciousness.
The question that arises then is this: Is the soul any help to the seeker in perceiving error?
The answer is yes and the reasoning is simple. When a true principle is enunciated to a seeker with soul contact he will feel an inner vibration that tells him that there is truth in what is being presented. If there are no true principles then the seeker will draw a blank or a stupor of thought.
Remember the consciousness of the soul focuses on principles rather than data. If the sender is giving out true principles then the data is usually reliable, but it is up to the seeker to verify them if they are of importance. If the seeker gets nothing from the soul then the data is generally filled with distortions and should be investigated to discover the truth.
Then there are times that the soul becomes aware of certain directions of people in your life and will perceive that they will be of benefit or harm to you. If the knowledge is considered important it will send you either a positive or negative impression on these people and it will then be up to you to reflect and figure out how to deal with them in your life.
When the seeker first establishes soul contact these impressions are so faint they seem to be a part of his imagination, but as he places attention on them the link becomes stronger and the seeker becomes confident in what he receives, for he has proven them correct many times.
Seed Thought of the Day:
Never substitute the master within for a master without.
Copyright by J J Dewey
Links for the first 23 sections of this series.
Part 1,  Part 2,  Part 3,  Part 4,  Part 5,  Part 6, Part 7, Part 8, Part 9, Part 10, Part 11, Part 12, Part 13, Part 14, Part 15, Part 16, Part 17, Part 18, Part 19, Part 20, Part 21, Part 22, Part 23
Index for Older Archives in the Process of Updating
Easy Access to All the Writings
For Free Book go HERE and other books HERE
JJ's Amazon page HERE
Gather with JJ on Facebook HERE